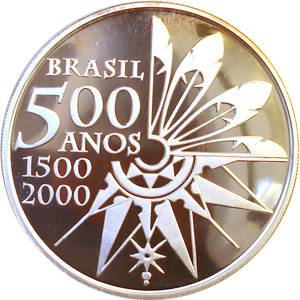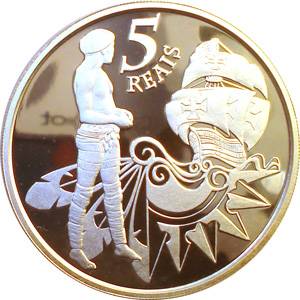 P734 Moeda Brasil 2000 5 Reais 500 Anos do Descobrimento do Brasil (Discovery of Brazil)
1 available
R$ 280.00
Credit card
L3BX-2GFV
Calculate shipping now
To know the shipping cost of your item and the estimated delivery time,
100% secure purchase
Advanced anti-fraud system so your purchases and sales are always guaranteed
Product info
Emission
0
Conservation state

Proof

Detail

Vendida por loja Collecione.Com . 500 Anos do Descobrimento do Brasil . Tiragem de 14.284 peças. Moeda no Estojo Oficial e ORIGINAL ( P734 referencia Catalogo Amato/Irlei ). Produto com Nota Fiscal.
General information
| | |
| --- | --- |
| Name | P734 Moeda Brasil 2000 5 Reais 500 Anos do Descobrimento do Brasil (Discovery of Brazil) |
| Country | - |
| Issuer | - |
| Currency | Real (1994-date) |
| Face value | 5 Reais |
| Quantity issued | - |
| Period | |
| Issue period | 2000 |
| Out of circulation? | No |
| Thematic | - |
Technical information
| | |
| --- | --- |
| Item type | coin |
| Subtype | non circulating coin |
| Material | plain: Silver main |
| Weight | 28 g |
| Diameter | 40 mm |
| Thickness | 40 mm |
| Format | round |
| Alignment | Unknown |
Comments
This piece was originally shipped with a case. Case with 2 Coins (5 Reais KM# 654; 20 Reais KM# 655)